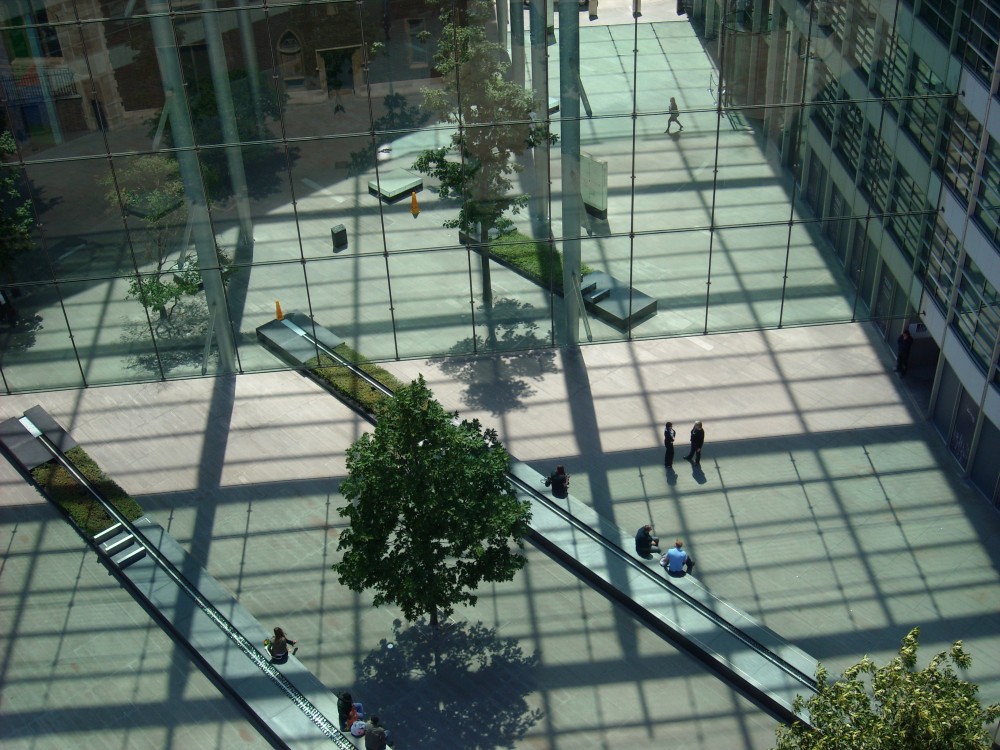 We hold regular events to reflect together on our responsibility for, and stewardship of, the environment and the world around us.
_______________________________
Previous events:
Wednesday 16 November 2022 - Film night
A chance to watch '2040', a thought provoking film in which Damon Gameau imagines how the world of the future may look to his four-year-old daughter. 'Gameau entertainingly surveys possible solutions to the climate change crisis, offering an unusually optimistic way forward' as one critic puts it. The film was followed by a vegetarian and vegan supper.
Saturday 23 July 2022 - Green Fair
As part of the All Hallows Summer Festival: Celebrating Creation, we held a Green Fair with a 'Small is Beautiful' cake stall, children's activities including making newspaper seed pots and planting beans, a labyrinth, the 'Green City' photography competition and exhibition, tours of Nic's Secret Garden, vegan teas, an outdoor 'green' quiz, clothes swap stall, second hand book stall, carillon concert and more. The event was in aid of the Christian Aid Global Hunger Appeal, raising money for those in the developing world whose lives have been affected by climate change with drought, flood and resulting crop failures.
Summer 2022 - Floating Field
As part of All Hallows' Summer Festival 'Celebrating God's Creation' and to coincide with the 'Superbloom' event at the Tower of London and the Platinum Jubilee, the Floating Field was a community art project led by artist Helen Maurer. Visitors, members of our congregation and the local community took part in creating this artwork, an installation of 70 flower mobiles, each with a prayer attached, suspended above the nave of the church. With grateful thanks to our sponsors: The Jerusalem Trust, Lady Peel Legacy Trust, Apex City Hotel, Citizen M Hotel, Leonardo Royal Hotel.
June/July 2022 - Summer Festival: Celebrating Creation
A wide-ranging series of events in celebration of the beauty and wonder of creation was put on during Summer 2022. There were three organ recitals by David Cook with different celebratory themes; City gardens walks to enjoy local green outdoor spaces; concerts by the East London Chorus and Square Mile Choral Scholars; a poetry evening: 'Poems for a Summer Night'; a Creation and Animal Service and a Summer Taize service with refreshments in the garden, as well as the Green Fair and Floating Field art project (see above).
Monday 9 August 2021 - YCCN Relay Prayer Breakfast
This summer, the Young Christian Climate Network is organising a walking relay for UK churches from the G7 in Cornwall to COP26 in Glasgow, calling for climate justice and better care of God's creation. The relay arrived in London in August where a number of events took place, including a prayer breakfast at All Hallowsand. We prayed for the walkers and heard from some of those involved about their experiences during the pilgrimage and their hopes for COP26. We also prayed for a good outcome to the talks in Glasgow and for urgent action to combat climate change and safeguard the earth.
Sunday 6 December 2020 - Planning a Green Christmas
How can we celebrate Christmas without it costing the Earth? A short, fun workshop session on Zoom with ideas for eco-friendly gift wrap and decorations, re-usable Advent calendars, alternatives to shop-bought presents, delicious recipes for using up leftovers and more. Did you know that you can rent a live Christmas tree, or that you can use an app to donate surplus food to local people in need? Do join us on Zoom to find out more and make your Christmas greener this year.
Weekend of 14-15 November 2020 - Celebrate Nature and You!
Well done to all who participated in our Green City challenge, to get out and about in nature at the weekend. 96k worth of runs, walks and cycles were completed. It's not too late to make a donation to our Green City fundraising, safeguarding the Earth for future generations at: www.justgiving.com/fundraising/greencity2020
Thursday 29 October 2020 - Eco Quiz
A fun quiz night to test our knowledge of green issues and learn more about protecting nature, cleaning our air, preserving our oceans and cutting carbon and waste. There was time to chat and swap ideas and tips as we learnt more about combating climate change.
Tuesday 8 September 2020 - Outdoor Service for Creationtide
To celebrate Creationtide, we held an outdoor service in the church garden to thank God for the beauty and diversity of creation and to pray for its preservation.
30 June 2020 - The Pandemic and the Environment - A Green Recovery?
As well as its many challenges, the pandemic has brought some unexpected opportunities. With huge cuts in greenhouse gas emissions as factories have been closed, flights cancelled and road traffic decreased, could the pandemic be a catalyst for a breakthrough in the battle against climate change? How can governments work for an economic recovery that is also a green recovery? Both the pandemic and climate change put the poor and vulnerable at great risk, but the harm from climate change, though slower, will be greater and longer lasting, so action is needed as urgently as ever. What can we do as churches or individuals to keep the environment high on the agenda?
22 October 2019 - Climate change and the developing world
Speakers: Jessica Hall, campaigns and organising officer, Christian Aid; Joanne Green, senior policy advisor, Tearfund; Steve Hughes, former CEO, A Rocha
Climate change and pollution are seriously and disproportionately affecting those in the developing world. With reference to some of the Christian Aid's current overseas projects, Jess Hall will describe the problems involved and how we can best make our voices heard in campaigning for action. Tearfund have developed a number of innovative schemes to help people in the developing world mitigate the effects of climate change and Joanne Green will describe some of these, such as providing clean off-grid energy, switching to clean stoves and dealing with plastic pollution. The Christian charity A Rocha is responsible for the Eco-Church initiative (of which All Hallows is a member) and works for the protection and restoration of the natural world. Steve Hughes will talk about their conservation projects at home and overseas, and about how we might help campaign on biodiversity issues.
29 October 2019 - Eco Cafe Discussion Group
An evening for sharing ideas on living more sustainably and combating climate change, with facilitated discussion on a number of environmental topics and some fun ways to learn more. Try your hand at sorting a grocery basket of foods from carbon light to carbon hefty – you may be surprised at which are the worst culprits! An informal discussion over drinks, with ideas for cutting your carbon footprint, living more sustainably and campaigning effectively..
14 November 2019 - Environment Quiz & Vegan Supper
Test your knowledge of all things environmental and distinguish climate change fact from hearsay or fiction. Fun quiz followed by vegan supper as we put learning into practice and share some new vegan recipes.