Over 1300 years of history under one roof!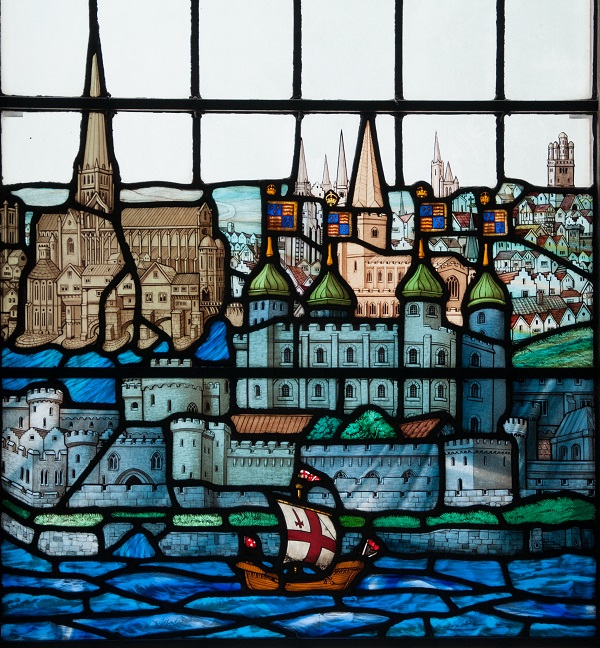 Our guides available in the church most weekdays from 10.30am-1.30pm and 2-4pm. They are able to answer your questions and take you on a short highlight tour of the church, leading you on a fascinating journey from our Saxon origins right up to the current day. Tours leave on demand rather than at set times, and we suggest you arrive before 3.30pm to allow enough time to look around.
HERITAGE TOURS FOR GROUPS can be booked by arrangement throughout the year. Led by our team of Guides, the tours present an opportunity to hear first hand about the long and colourful history of All Hallows. These tours last approx one hour and must be pre-booked, and there is a charge of £5 per person. Contact the church office (020 7481 2928 or email parish@ahbtt.org.uk) for more details.
Please do not bring a group for a self guided visit without checking in advance.
GUIDED WALKS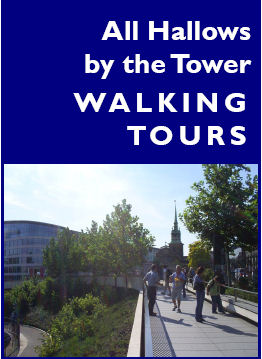 Walking London's streets and alleyways is the best way to discover the secrets of this extraordinary city. The All Hallows' Walking Tours are led by Pete Smith, a former university teacher and a qualified and experienced City of London and City of Westminster guide. Walks cost £10 per person and take between ninety minutes and two hours. Payment will be taken in cash, but direct contact will be avoided, gel will be available and social distancing will be observed. Please check the brochure carefully for the details of start times and departure points, as these vary according to the theme and route of the individual walks. No need to book in advance, just turn up on the day.
* BLOOD, FIRE & PESTILENCE - Thursday 28 April (starts All Hallows: 2pm)
* CRY ME A RIVER - Thursday 19 May (starts All Hallows: 11am)
* PARKS & PALACES - Friday 27 May (starts Charing Cross: 2pm)
* BETWIXT GOD & MAMMON - Thursday 9 June (starts All Hallows: 2pm)
* HANGINGS, BURNINGS & HAUNTINGS - Thursday 20 June (starts St Paul's: 2pm)
* PADDINGTON TO LITTLE VENICE - Thursday 7 July (starts Paddington station: 11am)
* POLICE, PUBS AND PIRATES - Thursday 28 July (starts Tower Hill tube: 11am)
* BLOOMSBURY: GROUPS, SQUARES AND TRIANGLES - Thursday 11 August (starts Tottenham Court Road tube: 2pm)
* TOWERING INFERNO - Wednesday 24 August (starts All Hallows: 11am)
Individual and group walks can also be organised on request - please email Pete directly to find out more: enquiries@londoncitywalks.co.uk