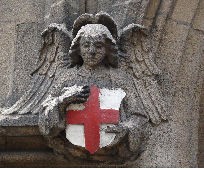 All Hallows by the Tower is the oldest church in the City of London and was founded by the Abbey of Barking in 675AD, 300 years before the Tower of London. An arch from the Saxon church can still be seen today. In the crypt beneath is a second century Roman pavement, discovered in 1926, evidence of city life on this site for nearly two thousand years.
Located next to the Tower of London, the church has cared for numerous beheaded bodies brought for temporary burial following their executions on Tower Hill, including those of Thomas More, Bishop John Fisher and Archbishop Laud.
In 1666 the Great Fire of London started in Pudding Lane, a few hundred yards from the church. All Hallows survived through the efforts of Admiral Penn (William Penn's father) who, along with his friend Samuel Pepys, watched London burn from the tower of the church. William Penn, founder of Pennsylvania, was baptised in the church and educated in the old schoolroom.
John Quincy Adams, sixth president of the USA, was married in All Hallows in 1797 and the Marriage Register entry is on display in the Undercroft Museum.
The church suffered extensive bomb damage during World War II and only the tower and the walls remained. The church was rebuilt after the war and was rededicated in 1957. The vicar at the time was the Rev'd "Tubby" Clayton, founder of the Toc H movement whose lamp of maintenance still shines in the Lady Chapel.