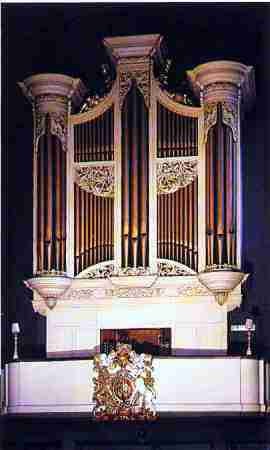 Our first organ was built by Anthony Duddyngton in 1519 and completed in 1520 at a cost of £50. The original indenture between Duddyngton and the Churchwardens is still preserved in the Parish records. Of 'double Ce-fa-ut' compass and comprising 'xxvij playne keys', it was removed during the period of the Commonwealth Parliament (mid 17th century). After the Commonwealth, the Vestry contracted with Renatus Harris for the construction of a new organ at a cost of £300; fifty years later this instrument was repaired by Gerard Smith (nephew of the famous Father Smith) who added a choir organ and handsome case. In 1813 it was again repaired, by GP England at a cost of £230.
Alterations were made in 1881 after considerable damage by fire and in 1909 a new organ, retaining some of the original pipes, was constructed by Harrisons of Durham who made further additions in 1928. It was on this organ that the late Dr Albert Schweitzer made his world-famous Bach recordings. The organ was totally destroyed during an air raid in December 1940.
The present three manual organ was built by Harrison and Harrison Ltd in 1957 at an approximate cost of £20,000 and contains a Silver Pipe inscribed to the late Queen Mary. The Royal Arms on the front of the organ loft are the original Stuart Arms of the Restoration (1660) of King Charles II to the Throne of England. For further details and specifications, please visit the National Pipe Organ Register.